Can you really have the goodness of a brownie and oatmeal in one cookie?
Of course you can.
And the proof is right here. This is the most amazing cookie!
This recipe is linked to: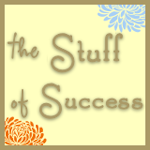 This cookie was brought to my attention by a another dear fellow blogger - friend - inspiration - and all around great person.
Michael Ann operates an amazing blog called
"The Big Green Bowl"
. You will have to go visit her because she has some amazing recipes over there.
She is also an inspirational writer. I love to read her thoughts, and she even places music to match her inspirational message. What a talented lady.....
I couldn't resist tweaking this cookie.....
Chocolate + oatmeal + coffee + nuts = Amazing satisfaction
I had a bag of cappuccino mix on hand: hazel nuts, chocolate covered coffee beans, malted milk balls, white chocolate chips, and caramel chips.
What would be better to place in these cookies? NOTHING!!
I chopped it all up fine in my mini chopper.
This was perfect! Every once in a while you would get a bite of cookie with a crunchy piece of coffee bean....perfect!
Brownie Oatmeal Cookies
1 (8 oz.) block cream cheese, softened
1/2 c. butter, softened
1 c. packed brown sugar
1/2 c. white sugar
2 eggs
1/2 tsp. vanilla
1 (12 oz.) bag of semi-sweet chocolate chips, melted
1 1/2 c. flour
1 1/2 tsp. baking soda
3 c. old fashioned oats (that's what I used, can use quick cooking oats)
1 c. chopped fine cappuccino mix (or walnuts)
This dough needs to spend an hour in the fridge, so don't preheat the oven until you are ready to bake them.
In a large bowl, beat cream cheese and butter until smooth. Add sugars and beat until creamy. Add eggs and vanilla, beat well to combine.
In a small bowl, melt the chocolate chips in the microwave, 30 seconds at a time, stirring in between. Add to creamed mixture.
Add flour and baking soda; mix well. Stir in oatmeal and cappuccino mix (or walnuts). Cover and chill for at least an hour.
Preheat oven to 350 degrees F. Shape dough into 1-inch balls, place on cookie sheet about 3 inches apart. Bake 8 - 10 minutes or until cookies are almost set. Don't over-bake!
Cool on cookie sheet for a couple minutes, then remove to a wire rack to cool completely. Store in airtight container.