These are the best cookies ever, so why am I in tears?
I was blog hopping the other day, or facebooking, doing my normal cyber things, and I do it so much that I can't remember where I was or who I associated with. From now on I'm going to take notes, because I want to give credit where credit is due.
I remember reading a post about using bread flour in place of all-purpose flour when you make cookies.
And if the person that I associated with is reading this post, please come forward and let me know who you are so I can give you credit for this incredible recipe.
The reply that I remember leaving went something like this; "Bread flour? I'm going to have to remember that."
Please, please, please let me know who you are.
This recipe called for 2 cups of peanut butter chips, but I only had a half a bag. I had to substitute for the rest. I chose caramel bits and toffee chips.
Caramel, peanut butter, and toffee all go together, right? And mixed with chocolate....that's even better.
Why is it when you make chocolate cookies they always look like a pile of poo before baking?
And there is just no way you can get a good picture of chocolate cookie dough balls.....
But they taste o-so-good....
I just love my Pampered Chef cookie scoop!!
I got the large one, of course. Gotta have large cookies when you make cookies. The small ones are a tease.
The cookie scoop makes for perfect cookies every time.
Sam size and same roundth (is that a word?)
I wanted to show you what they look like when they are done baking. I think it is so hard to tell when a chocolate cookie is done baking. They are already brown, which means you can't see the brown when they bake.
When the tops are cracked like the picture above, and the edges look like they are set, that means they are done. Don't over-bake.....
I also had to show you the inside of these cookies. Moist, chewy, and fluffy.....
I'm going to tell you what these cookies reminded me of. Have you ever ate an Otis Spunkmeyer cookie? They are only the best in the world.....
These cookies remind me of Otis Spunkmeyer. They are that good!!
I took lots of pictures so you can keep on looking at the goodness.....
This recipe is linked to: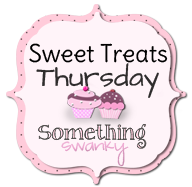 And now for the recipe:
Chocolate Peanut Butter Cookies
1 c. butter, soft
1 c. white sugar
1/2 c. brown sugar
2 eggs
2 tsp. vanilla
2 c. bread flour
2/3 c. unsweetened cocoa powder
3/4 tsp baking soda
1/2 tsp. salt
2 c. peanut butter chips (don't be afraid to substitute if you don't have enough)
Preheat oven to 350 degrees F. (I use Pampered Chef baking stones, which never need greased).
In a mixer bowl, cream together the butter and sugars. Mix in the eggs and vanilla. Combine the flour, cocoa, baking soda, and salt, mix into wet mixture. Finally, fold in the peanut butter chips. Drop cookies by heaping teaspoonfuls onto baking sheet. Bake 8 - 10 minutes.
*Note* - I used the large Pampered Chef cookie scoop. My baking time was 14 - 16 minutes. Just remember that when the tops get large cracks and the edges are set, that means they are done.