These are the cutest little muffins I have ever seen. And they are portion controlled! Two bites, or one bite depending on how full you fill your mouth, and they are gone. Just one of these cute little muffins curbs my desire for something sweet. There can't be that many calories in a mini muffin, correct?
I am so in love with the flavor of these muffins and they will be made again and again in my kitchen.
I only used a small package of blueberries, so there are some muffins that don't have any blueberries in them. But that's okay because the lemon flavor is so magnificent that you don't even miss the blueberry.
What did I do when the iPad 3 came out? Yup, I went right out and bought myself one.....I love being able to take it into the kitchen and use it as a cookbook. Before my Ipad I was using my lap top in the kitchen. The iPad uses less room and I don't have to worry about getting a key pad all messy.....I would recommend the iPad to every serious cook out there. Truly a blessing.....
Another plus with the iPad, you can take
me
(A'lil Country Sugar) into your kitchen. We can actually spend time together.....SA-WEET!!
And as you can see from the photo, I was spending time with Mandy at
Mandy's Recipe Box
. Her Strawberry Lemonade Muffins are the inspiration to my lemon/blueberry mini muffins. Spend some time with Mandy. I guarantee you won't regret it. Mandy always has
great
recipes.
This is what I did to create the lemon/blueberry crumb topped mini muffins.....Mandy is very helpful by giving the recipe for self-rising flour. I have always made my own.
This recipe is linked to: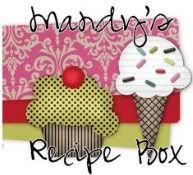 And:
Lemon/Blueberry Crumb Topped Mini Muffins
For the muffin:
2 1/2 c. self-rising flour
1 c. sugar
1 (8 oz.) sour cream
1/2 c. butter, melted
1 TBS lemon zest (one lemon)
1/4 c. lemon juice (one lemon)
2 large eggs, lightly beaten
1 pint fresh blueberries
Preheat oven to 400 degrees F. Combine flour and sugar in a large bowl; make a well in the center.
Stir together sour cream, melted butter, lemon zest, lemon juice, and eggs. Pour in the well in the flour mixture and stir just until moistened. Gently fold in blueberries. Spoon batter into mini muffin pan lined with mini liners (I used a medium sized cookie scoop and filled the liners almost full). Bake 15 -18 minutes. I started checking mine at the 10 minutes mark.
For the crumb topping:
(sprinkle this on the muffins before baking)
1/4 c. butter, soft
1/2 c. flour
1/2 c. lemon cake mix, dry
1/3 c. sugar
Place all ingredients into a medium sized bowl and mix with pastry blender until fine crumbs form. You will end up with some crumb topping left over, but that's okay, just put it in a zip-lock bag and store in fridge for future muffin crumbs or sprinkle on cobblers.