Carlee at Ladybird Ln
asked me to guest post at her blog. Bless her heart, this is my first guest post and I was full of questions. And I made sure she knows that I am a newbie to this kind of stuff.
What an honor for Carlee to invite me.
I decided to post my original guest post here also, but make sure you go and visit Carlee. Her turkey farming posts are great!!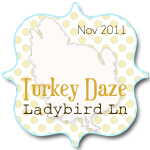 And I haven't even introduced myself yet.....My name is Angie Walker, and I have been a faithful food blogger since July of 2010 (
A'lil Country Sugar
). Blogging is an amazing world in itself. I had no idea that a hobby would become a full-time commitment. I'm sure you dedicated bloggers out there would agree with me.
Carlee is having Turkey days the whole month of November, and with her family being a sixth generation in turkey farming, I would say that is very appropriate, and in this world today, something to be very proud of.
She asked me to share with you my Caramel Apple Turkey Panini.
This panini was entered in a food challenge concerning caramel and apples, and it did very well. I was the only contestant out of 80+ to focus on a main meal item instead of a dessert item (yes, I thought outside the box).
Two of my favorite apples during apple season is the fuji apple and the honey crisp. Either one will work well on this sandwich.
Is there anything better than turkey,
caramel,
and apples.....
I don't think so!
Instead of typing out the recipe for this sandwich I will give you the directions to find it
here
.
Just to tell you a little bit about me, I like the simple things in life, and in food. I don't think you need all the fancy-smancy stuff for food to taste good. I was raised in the country and most of my foods represent that.
I live in a small community of less than 1,500. You know, one of those communities where everyone knows everyone, and everyone knows everyone's business.....fun times!! And if you want to know the latest gossip just go to the local hair salon in town.
I have three wonderful grown children (25, 21, and 17). Okay, the 17 year old still needs a little work, but she's getting there. I am also the proud grandmother of two amazing grandchildren (Ashton 6 & Lydia 4).
I am a full-time college student working on my bachelor degree in supervision and leadership, and I am loving every minute of it. I have been attending college since January of 2009, and will be graduating in May of 2012. Don't know what I'm going to do once those apron strings are cut....kind of scared.
I volunteer as administrative assistant at my local United Methodist Church, and I manage a
local business' social page
(as a volunteer).
And last but not least, my job of 22 years went over-seas in 2009.
That is me in a nut-shell....
Thank you again Carlee for inviting me to your wonderful blog.