Ever since I made the onion zucchini bread, I have been hanker'n for some good old fashion bean soup. The zucchini bread reminded me of the cornbread my mom used to make and she would serve it with ham and bean soup.
My dad would put the cornbread under his beans, throw some fresh diced onion on top, and slather it with ketchup. Yup, it was very good.
I had the same thing in mind with my onion zucchini bread and bean soup.
Is it okay to leave the house with a simmering pot of soup on the stove? I was only going to be gone for two hours, at the most. I had to be in school.
I asked the dog (Harley) to keep and eye on it, and to stir it once in a while.
Do you see what he did?
He pulled the blankets over his head and said, "Yeah right, this is what I'm going to be doing the whole time you're gone." Sleeping!!
GEESH!! Can't even count on the dog to help me out.
The onion zucchini bread
and bean soup went perfect together. And the two hours of simmer time was just perfect.
And thank God my house didn't burn down.
This recipe is linked to: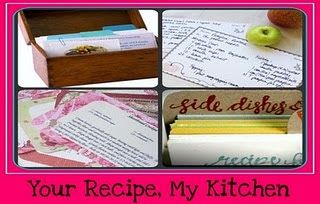 I have one suggestion before letting you read the recipe. I would use diced ham in this soup instead of bacon, but it is entirely up to you. I don't like the way the bacon gets soft in the soup. Add cooked bacon to liquid and it doesn't stay crispy for long.
Bean Soup
3 c. assorted dried beans (soaked in water overnight). I used black beans, white navy beans, and kidney beans *(Not 3 c. each, 3 c. total)
6 c. water with 4 TBS ham soup base added
1 (28 oz.) can diced tomatoes (I used basil, garlic, and oregano flavor)
1 large onion, chopped
4 med. carrots, chopped
2 garlic cloves, chopped
2 TBS dried parsley flakes
1 tsp. dried Thyme
1 tsp. ground mustard powder
1/2 tsp. cayenne pepper
1 pkg. bacon, cooked and crumbled
Place everything except bacon in a pot or dutch oven. Bring to a boil, turn down to simmer, cover and let it simmer for two hours. Cook bacon and crumble. Add bacon just before serving.
"Two are better than one, because they have a good return for their work; if one falls down, his friend can help him up. But pity the man who falls and has no one to help him up! Also, if two lie down together, they will keep warm. But how can one keep warm alone? Though one may be overpowered two can defend themselves. A cord of three strands is not quickly broken."
Ecclesiastes 4:9-12
Some may say, "It's true that people work out of a sense of ambition and a drive for admiration from others, but it is better to have companionship while doing so."
There are four advantages to not being alone:
First, it will increase the reward. Two can live cheaper than one, and many people get married on that basis. There was a popular song during the depression that said (sang), "Potatoes are cheaper, tomatoes are cheaper, now's the time to fall in love." The song influenced young people enough that they believed it and got married. Today the song should say, "Potatoes are dearer, tomatoes are dearer, now is the time to fall in love, because you can combine your resources. Married couples get tax breaks.....
Second, a friend will provide help in times of trouble. If you find yourself in difficult times, you always have a friend to help you out.
To fully appreciate the the third advantage, you have to live in Alaska. When the temperature is forty-below-zero or colder outside, you will fully understand the advantage of staying warm with another person. "If two lie together, they are warm; but how can one be warm alone?"
The forth advantage, the presence of one or more others in your life makes defeat unlikely: "Though one may be overpowered, two can defend themselves. A cord of three strands is not quickly broken." While there are true advantages in companionship, it can still add up to emptiness; it does not satisfy the sense of eternity that God has put in people's hearts. There are many couples that sit in loneliness, staring at a television screen for hours at a time or seek some other diversion to fill the emptiness and misery feeling of their lives. No, companionship, though it is better than loneliness, is not always the answer either. Sometimes we have to take care of our own potatoes and tomatoes before we join in companionship.
Does teamwork play an important role in our ministry, or do we tend to go it alone?