Is there anything better together than bananas and pineapple?
You put the two together and they automatically place you in a gorgeous tropic paradise.....
That's what happens to me anyway. I eat the two together and I am standing on a Hawaiian beach (are you with me?).
I used my favorite banana bread recipe, which this recipe is more like a banana cake, so I knew it would work perfectly.
The banana bread recipe came from a very good friend of mine. It is a recipe that has been used for a very long time in her family.
I took this cake to a church pot-luck meal, and it was a huge hit. Everyone loved it!
This recipe is linked to:
And also: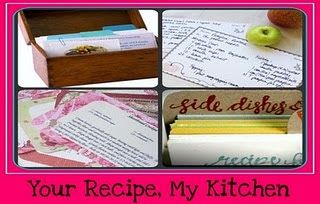 Pineapple Up-Side Down Banana Cake
1/4 c. butter
2/3 c. packed brown sugar
1 can sliced pineapple
maraschino cherries (for the center of the pineapple rings)
golden raisins to sprinkle on top of the pineapple rings
Preheat oven to 350 degrees F. Melt the butter in square baking dish (9x9x2) in the oven. When the butter is melted, sprinkle with brown sugar. Place the pineapple rings on top of the brown sugar. Place a cherry in the center of the pineapple rings, and then sprinkle with golden raisins (about a handful).
1/2 c. Crisco
1 c. sugar
2 eggs
3/4 c. mashed bananas (I used two large)
1 1/4 four
3/4 tsp. baking soda
1/2 tsp. salt
Cream Crisco and sugar together. Add eggs while mixing. Combine the dry ingredients and add to the creamed ingredients. Mix well. Pour batter over pineapple rings and bake for 35 to 40 minutes. Test with a wooden pick.
"For everyone born of God overcomes the world. This the victory that has overcome the world, even our faith. Who is it that overcomes the world? Only he who believes that Jesus is the Son of God."
1 John 5:4-5
Jesus never promised that obeying him would be easy. But the hard work and self-discipline of serving Christ is no burden to those who love Him. No burden allows me to stand on that imaginary beach. I am there with the Spirit that moves me. If our load starts to feel heavy, we can always trust Christ to help us beat it.