This recipe was chosen as a feature item at:
I don't know about the rest of you, but I can spend endless hours searching blogs for recipe inspiration.
The inspiration for this recipe was found at
Bake or Break Recipes
.
You know, at least you should by now, that I can't just follow a recipe. I almost always have to "kick them up a notch", as Emeril would say.....
When I came across this recipe and seen the word peanut butter, I automatically thought of Nutella. Why does peanut butter remind me of Nutella?
Nutella = chocolate, peanut butter = peanuts
But put the two together and you have chocolate peanut butter.....and I know in the foodie law books you cannot, should never, don't even think about it, separate chocolate and peanut butter.
When the cake batter hit the pan, I heated about a half cup of Nutella in the microwave (13 seconds) just to soften it a little and swirled into the peanut butter cake batter. Isn't that gorgeous? I didn't really want to bake it after that picture.....
Then I topped it with the required 1 cup of reserved flour mixture, and sprinkled mini chocolate chips on top.
This is what it looked like right out of the oven. And to give you a little visual sensation.....my whole entire house smelled like peanut butter and chocolate. I think that scent should be captured in a candle....
This cake ended up with crunchy top and moist middle. The way a cake should be. Actually, it kind of reminds me of a coffee cake.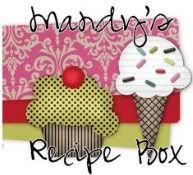 And:
And:
Recipes For My Boys -
Thursday's Treasures
And:
Peanut Butter Nutella Cake
2 1/4 c. all-purpose flour
2 c. light brown sugar
1 c. creamy peanut butter (I used extra crunchy and used a mounding cup)
1/2 c. butter, soft
1 tsp. baking powder
1/2 tsp. baking soda
1 c. milk
1 tsp. vanilla
3 eggs
1/2 c. Nutella, softened in microwave for 13 seconds
1 c. mini chocolate chips
Preheat oven to 350 degrees F.
Coat a 9x13 baking pan with cooking spray. Set aside
Using an electric mixer, combine flour, brown sugar, peanut butter, and butter. Mix well.
Remove 1 cup of the flour mixture and set aside.
To the remaining flour mixture, add baking powder and baking soda. Mix in milk and vanilla. Add eggs, one at a time, mixing well after each addition.
Transfer batter to baking pan. Heat 1/2 c. Nutella in microwave for 13 seconds. Pour over cake batter and swirl into batter with a butter knife. Sprinkle top with reserved flour mixture, and sprinkle with mini chocolate chips. Bake 35-40 minutes (mine took all the 40 minutes). Test with wooden pick. When wooden pick comes out clean, it's done.